Casa Tartini: The Library. Interview with Kristijan Knez, presentation video, production 2021.
De Castro bequest



The book collection of Prof. Diego de Castro (Piran, 1907 – Roletto, Torino, 2003), donated by bequest in his will to the Italian Community Giuseppe Tartini, consists of the private library of this illustrious citizen of Piran, who was known for his multifaceted personality. Diego de Castro was a statistician, a demographer, a diplomat, a historian, a publisher and a committed intellectual. The collection includes a specific selection of more than 6,000 titles, reflecting his many interests as well as commitments carried out throughout his long life. A considerable part of the archival materials consists of volumes, journals, directories and statistical yearbooks. The professor, in fact, was one of Italy's leading statisticians, teaching at various universities, including those in Turin and Rome. From the 1930s onwards he had devoted himself to a variety of aspects related to this discipline, paying attention to both the analysis of economic problems and demographic aspects.

In Istria and Trieste, Diego de Castro's name recalls above all his work as representative of the Italian Republic in Trieste to the Allied Military Government and his later work as historian of the events on Italy's Eastern border. The study and analysis of that specific period was goundbreaking for his monumental work The Trieste Question.Italian political and diplomatic action from 1943 to 1954 published in 1981 in two volumes.

Prof. Diego de Castro had been directly involved in post-World War II events. The book collection contains pamphlets, propagandist publications, reports, works published on the occasion of the 1947 Peace Treaty and the 1954 London Memorandum, including the documentation released only after the mid-1940s. The last is a section of the bequest that brings together much of what was given in print on the Trieste node, its diplomatic history and border problems in general. As a scholar of our region's recent past, de Castro needed and used an extensive bibliography as well as collections of printed documents. On the shelves of the library, therefore, one can find hundreds of volumes on historical and political subjects mainly, such as the impressive collection of Italian Diplomatic Documents, consisting of more than a hundred tomes.

A considerable body of publications concerns the history and culture in the broad sense of Trieste and Istria, with books relating to its dialect, economics, current affairs; there is no shortage of the great names of Julian region's literature and other books of 'good culture' either. Among the oldest works we point out the first edition of Historia antica e moderna: sacra e profana della città di Trieste by Ireneo della Croce (Venetia 1698). A special section deals with Piran's past, culture and its vernacular. Through purchases and tributes, which he kept with special care, de Castro collected a considerable number of works published in Friuli Venezia Giulia and Istria on various subjects. Thus, the library in some ways mirrors the professor's broad interests and multifaceted culture.

The donation of the library was a great act of selfless generosity for his hometown. It was his wish, in fact, that the Italian Community could take care of the books and documentary heritage that he had collected with such patience and preserved with limitless care, so that it would not be lost and would be available for future generations.



Specimen in the Collection
---
Informative translation: "The Five-year Plan For The Development of The National Economy of The People's Federal Republic of Yugoslavia", Zagreb, 1947.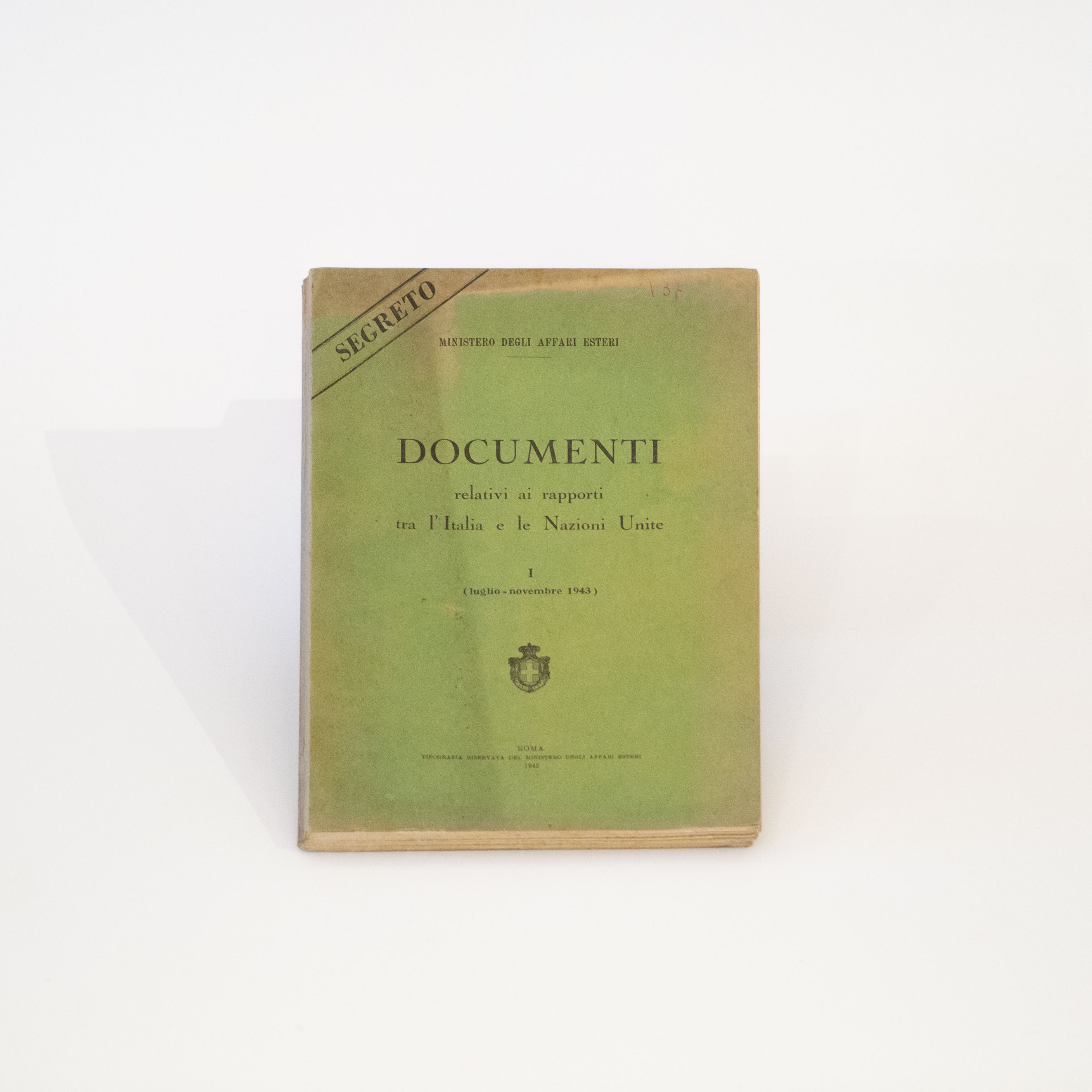 Informative translation: "Documents concerning the relations between Italy and the United Nations, Volume I. Ministry of Foreign Affairs (secret documents)", July-November, 1943.
Informative translation: "Ethiopia. Practical guide for the officer destined for East Africa, High Command A. O. General Staff Information Office (confidential documents)", Asmara, July, 1935.
---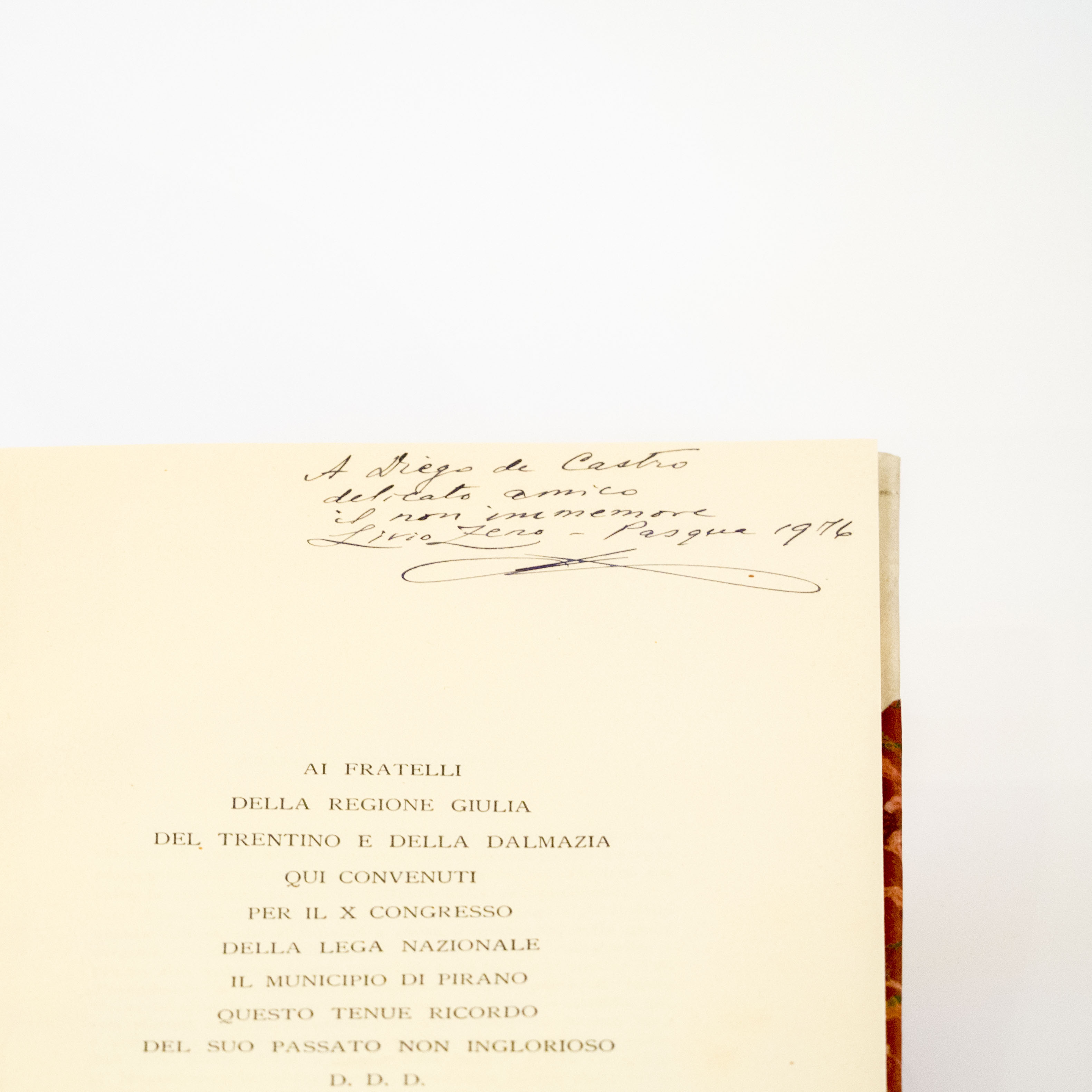 Informative translation: "Piran for Venice", Luigi Morteani, Trieste, 1906 (dedication by Livio Zeno to De Castro).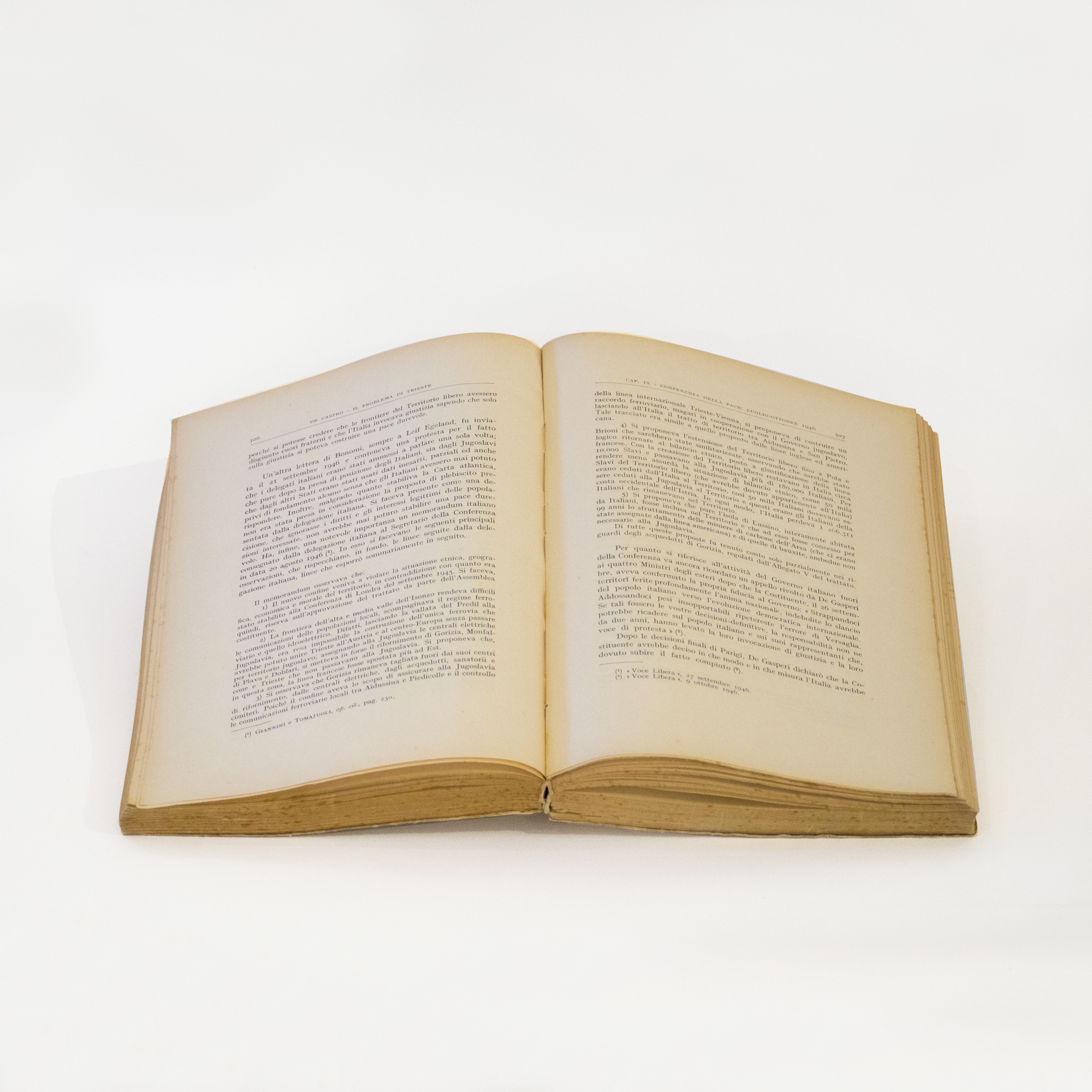 Informative translation: "The Trieste problem. Volume I. Genesis and developments of the Julian question in relation to international events (1943-1952)", Diego de Castro, publisher Licinio Cappelli, Bologna.